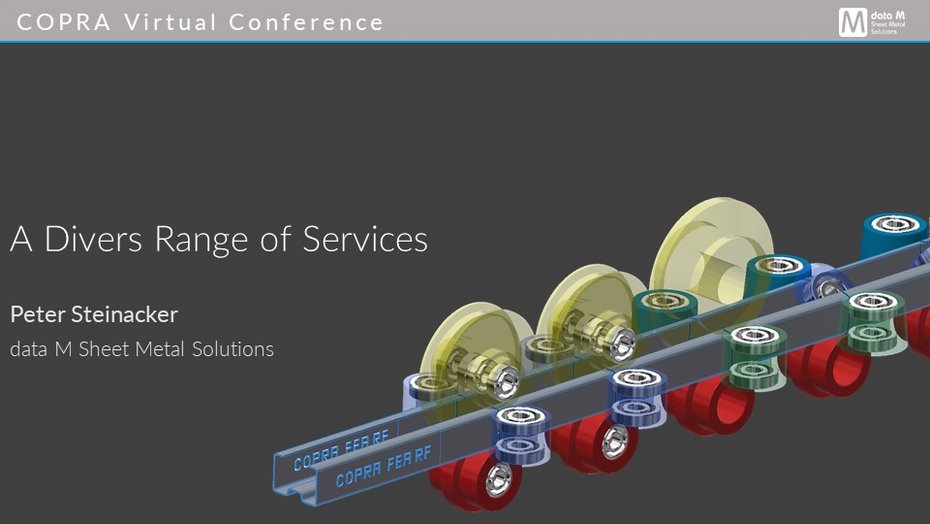 A Diverse Range of Services
Did you know that our team not only develops our COPRA software but is also made of design and simulation experts who also apply it themselves?
With unparalleled expertise in roll forming, we are in high demand as consultants for the industry's greatest challenges and most demanding design projects.
TOPICS
For Session 6 of the COPRA Virtual Conference, project manager Peter Steinacker invites you to his world of roll design services – which presents itself as diverse as our range of customers.
If you can find yourself here, we are delighted if you join us live for this 20-minute presentation:
Are you thinking about buying a new machine?
Would you like to launch a new profile and check your roll drawing for feasibility?
Or maybe you just need some expert advice to solve an issue with your machine?
Peter Steinacker will explain to you, how our team supports you with your projects and what our slogan "Your Partner in Rollforming" stands for.
Following the presentation, we look forward to answering your questions.
Presenter
Peter Steinacker, trained mechanical technician and a known industry expert, is working at data M as project manager and application engineer.

He started his career in a large corporation where he learned everything about the design of open and closed profiles from scratch. From that moment, sheet metal and roll forming became a passion and an ever-present companion throughout his professional career – so did COPRA.
Peter Steinacker has been a dedicated COPRA user from the very beginning: "With every new profile the designer runs into a new challenge. I find it thrilling to face these challenges with COPRA and make the seemingly impossible possible."
Date
2022-tbd 09:00 AM
2022-tbd 04:00 PM
Location
Language
COPRA Virtual Conference