5 reasons why COPRA RF Software is superior to any other roll forming software and can save you time and money...
Recent customer surveys suggest, COPRA® RF can save you 50% or more in time alone per roll tool design, compared to our nearest competitor! Here is how it's done, with the following key features:
1: SpreadSheet - Parametric Module for Flower Design
Necessary modifications can be performed very efficiently for multiple stations as COPRA RF SpreadSheet supplies full associativity between the individual stations. Any modification in the final section or a station can be easily done in real time in the AutoCAD environment, updating the complete flower automatically, it is not even necessary to adapt each single pass. This simplifies and speeds up the design process.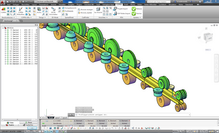 2: 3D-Option - Rolls and Profiles can be displayed 3-Dimensionally at any Time
During the flower or roll tool design you can easily switch between design modus and 3D view. This makes the roll tool development faster, easier and more efficient.
3: FEA-Simulation - Easy to Use FEA Model Preparation, also from other CAD-Systems
The roll tool design data can be directly imported from COPRA RF into COPRA FEA RF. This does not require any time-consuming pre-processing or difficult post-processing. It only takes seconds to create FEA models. You can also import data from basic AutoCAD drawings or even from other rollform software.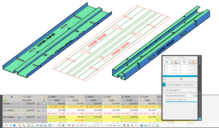 4: Punch-Hole Editor - Simple and Fast 2D and 3D Punched Hole Definition
The punched holes can be defined either in the flat strip, or in the final section. Besides the integrated library of standard holes, the user can also define bespoke punch tool shapes and add them, creating a personal punch tool library. The transfer of the hole information into the FEA model is then done automatically.
5: Roll Database - Cross-Project Searching Tools for Rolls
COPRA Roll Lifecycle Management database enables roll form designer to store complete toolsets to a database in order to easily find and re-use rolls for other projects as well.