Flexible Rollforming (3D Rollforming)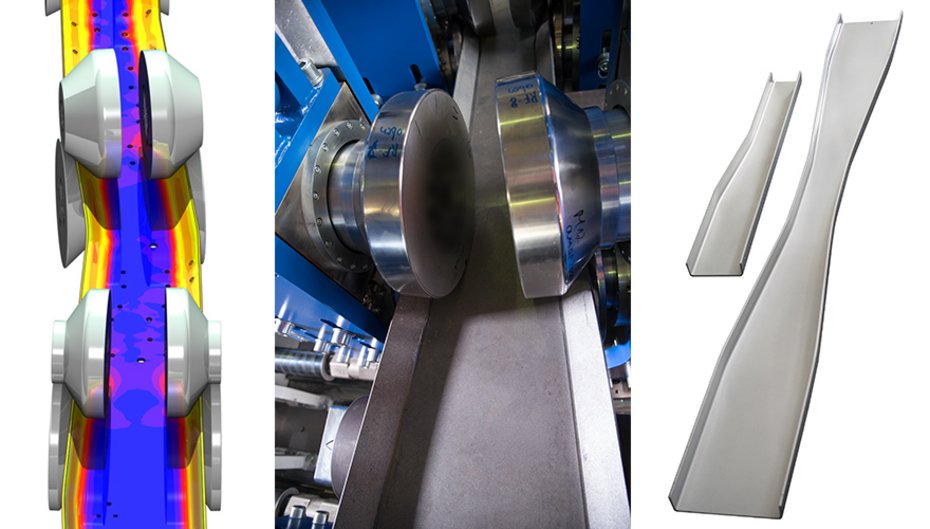 Advantages of Flexible Rollforming
Both suppliers and machine manufacturers to the automobile industry still lack expertise and experience in this new 3D-rollforming technology, which is why investment by industry has been hesitant for a few years now, although the advantages of the new technology are fairly obvious:
More flexibility than press formed or stamped parts (each needing an extra tool) and greater variety of form (e.g. closed profile forms).
Cost benefits through continuous production.
Fabrication of complete part families on a single installation.
Better formability of high-strength and ultrahigh- strength steel as well as aluminium, etc.
In addition to several industrial feasibility and prototyping projects, data M SMS has been working on a larger industrial application of this promising technology giving advantages to industry.
The new process also makes it possible to fabricate so called load-optimised profiles, i.e. with profile cross-sections optimally matched to their particular load. On the structural parts of automobile sand trucks, such as cross and main members,that can mean a weight saving of more than 20 percent, which other technologies can often only achieve through much more effort and expense.
The economical and ecological effects are also very respectable. Assuming a vehicle drives 100,000 km, the total saving is 4 litres of fuel per kg saved (Based on: saving of 0.4 liters / 100 km per saved 100 kg). That is not only economically but environmentally sound.
Especially worth mentioning about this new process is that it is very cost effective and economical in terms of tangible benefits produced by money spent, giving vast savings in the long run. Given the high flexibility of the process combined with the effectiveness of rollforming, whole assemblies and similar part families can be produced on a single rollforming line.
data M SMS is your partner for any industrial realisation of this technology! We offer our customers efficient and competent services for implementing the entire process chain of roll forming flexible cross-sections from their calculation and design through to the creation of a complete industrial plant. Intelligent control, reliable simulation and patented process engineering are essential for controlled roll forming operations of sheet metal strip.
Our services comprise the following:
Generation of a feasibility study.
Devising of a (partly) new machine and rollforming concept.
Planning of the industrial plant and either delivery of the complete industrial plant to the end-user as a general contractor, or
Consulting of individually selected machine manufacturers to produce the plant(s) for selected end-users.