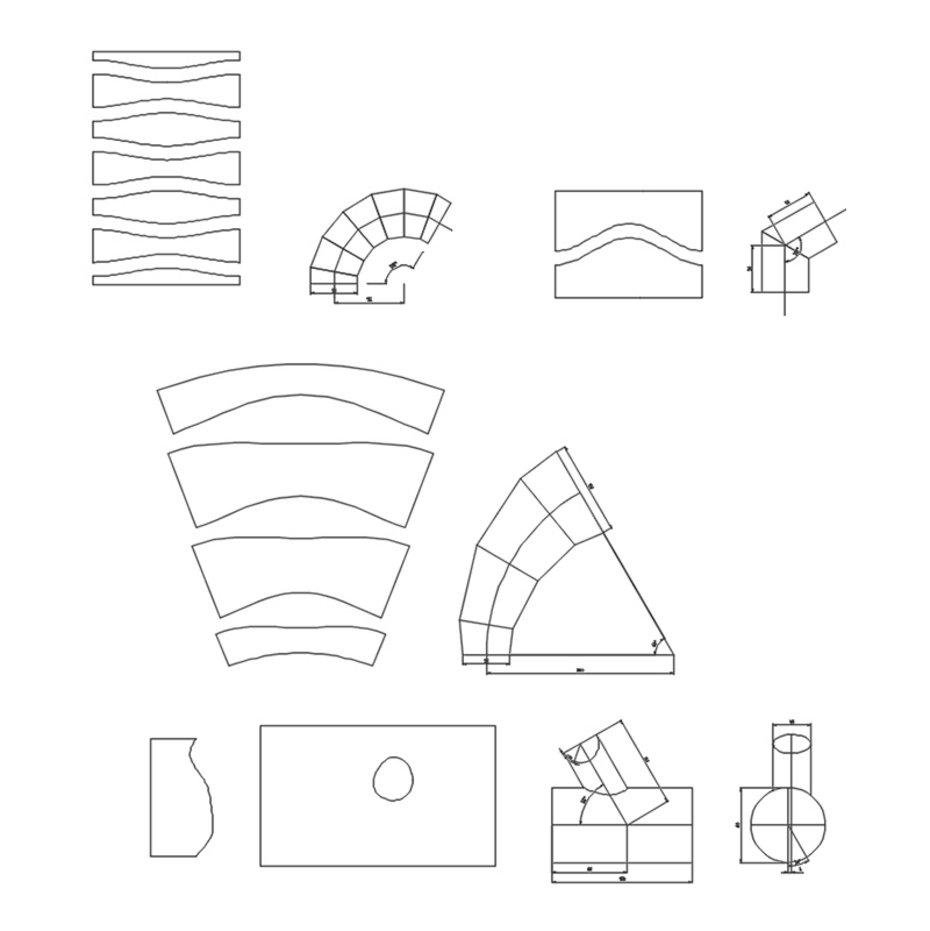 Design and unfolding of parts used in airconditioning, heating and ventilation, for transitions and ductings with 2D and 3D unfolding library
The 3. dimension for Heating, Ventilation and Airconditioning: A fantastic software for the design of HVAC sheet metal parts. The COPRA® MetalBender HVAC has been developed from one of our best selling software - Genius Sheet Metal.

Of course, the great number of easy-to-use and helpful features are still available. This new generation of software has done the step into the 3rd dimension. It has become much more flexible: If you do not find your desired parametrised 2D-macro - just design it as a 3D AutoCAD Solid.

All you have to do in order to get the flat pattern is to click this 3D SOLID with your mouse. The sheet metal blank is then being calculated automatically. You can even choose whether the blank is displayed as a membrane or layer model (both sides).

The latter is very helpful if you have to handle heavy gauges (thick material). In this case you are able to overlay top- and bottom side of the flat pattern. The user is able to modify the shape or position of already defined parts. The calculated intersection curves can be represented in different ways.

According to your production requirements these intersection curves can be stored as continuous lines or approximated by arcs. Of course, coordinate files can be obtained as well, if you write your cutting programs manually.
Functionality of COPRA MetalBender HVAC
2D-unfolding library:
Pipe
Pipe branch
Elbow
Bend
Concial bend
Cone
Cylinder / cut cylinder
Transistion round to round, round to rectangular and rectangular to rectangular
Cut prism / cut pyramid
Forked pipe round and round-rectangular
Dished boiler end
Cut conus
3D-unfolding library:
All kinds of cylinder / conus or conus / cylinder intersections, even if there are several branches
Cylindrical or conic branch on dished boiler end
Transitions (cross-overs) from:
Round to round
Sharp cornered to sharp cornered
Round cornered to sharp cornered
Highlights of the COPRA MetalBender HVAC
Easy to use
Parametric 2D and 3D unfolding library
Quick modification by entering new parameters
Calculation of blanks - with all intersection curves
Curves represented as continuous lines or arcs
NC programming interface
Genius compatible